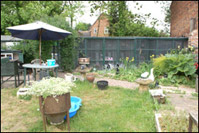 Birmingham Cattery Services
Hall Farm Cattery offers a range of cat boarding services as well as small animal boarding and cat grooming at our Birmingham cattery.
All our Birmingham cattery units are spacious and airy with both electrically controlled heating and air-conditioniong. There is enough space in each for up to 2 cats sharing if from the same home and used to be with each other. We currently have capacity for up to 64 cats all year around.
We not only provide cat boarding but also accommodation for a range of small animals and exotic pets such as rabbits, parrots, mice, hamsters, guinea pigs and tortoises to name but a few. The small animal boarding facilities that we provide are both spacious and hygienic and set within a quite garden off the main road with lush greenery all around.
Cats with special diets, elderly cats, kittens and those on medication are all welcomed at Hall Farm Cattery near Birmingham, West Midlands. Provided they have been immunized against Feline Infectious Enteritis and Upper Respiratory Infections (Cat Flu) and a current certificate of vaccination must be presented.
Here at Hall Farm Cattery your cat's health & wellfare is very important to us and maintaining a cat's nails can be taken care of by us with our professional and painless cat nail clipping service.