Boarding Cattery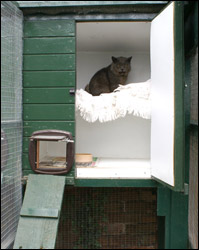 Hall Farm Cattery offer comfortable boarding units for up to 64 cats all year around, throughout winter and even Christmas. Both indoor and outdoor cattery boarding units are available with air circulation and heating which is included in the price.
The cattery has been in business for 47 years and has built up a reputation for quality animal husbandry, professionalism and loving care given to all residents, but especially to those cats who are older and or on medication.
Our boarding units are both airy and spacious and come with an area for the cats to walk around in and stretch their legs as well as bedded areas for them to relax and sleep in comfort.