Small Animal Boarding
Bed-A-Pet
Hall Farm Cattery accommodates a number of small animals such as rabbits, parrots, mice and tortoises. All our boarding residents are provided with spacious accommodation within a tranquil setting in the countryside with greenery all around.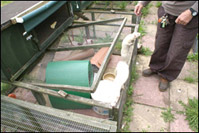 Small Animals & Exotic Pets Catered For
The list below outlines the kinds of small animals and exotic pets we can accommodate at Hall Farm Cattery:
Hamsters
Rats
Mice
Parrots
Rabbits
Tortoises
Ferrets
Chameleons
Guinea Pigs
Birds such as parrots are taken into our own home for added security and to provide them with as stress free a time as possible as well as giving them surroundings that they would be used to at home.